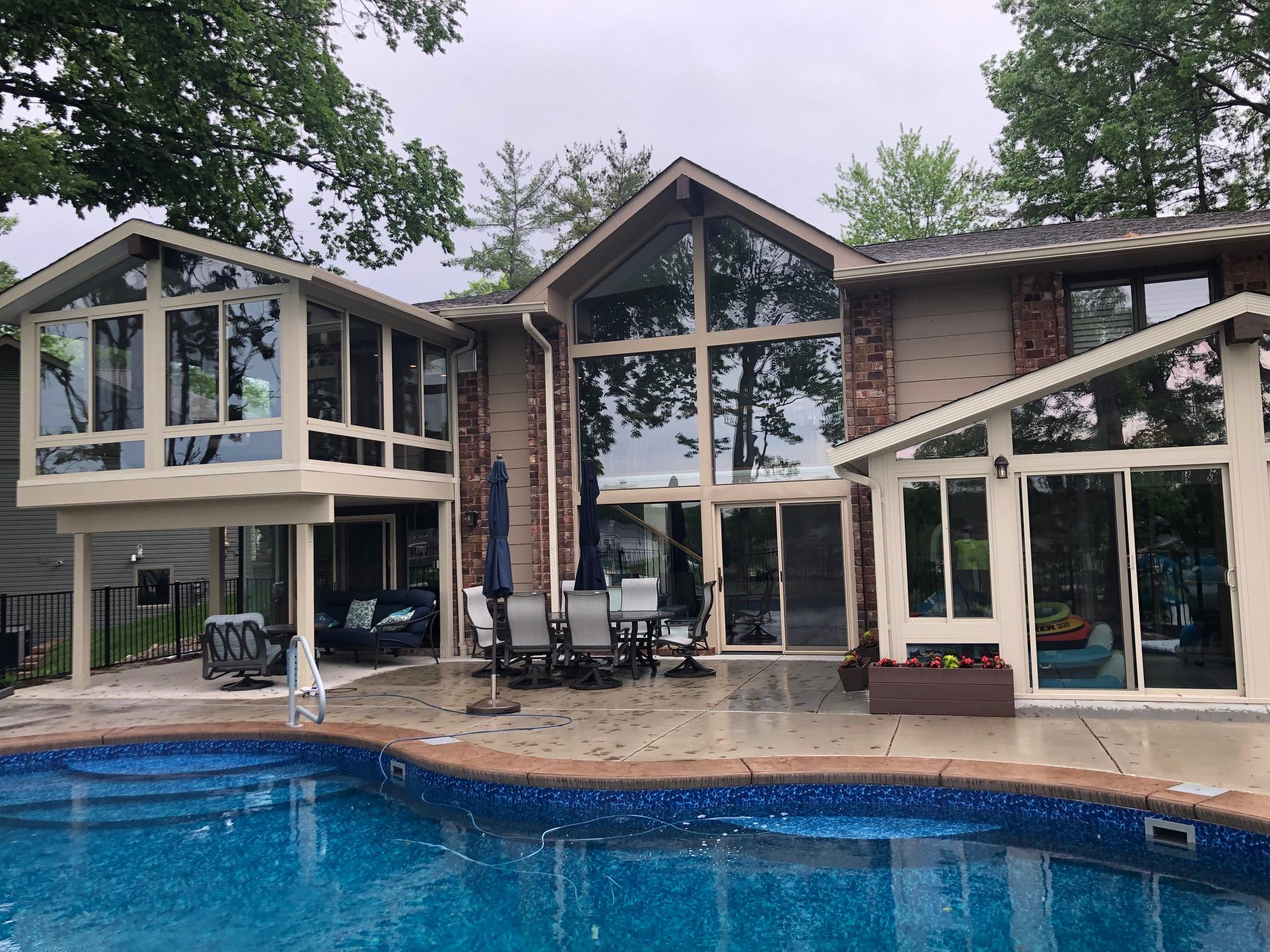 Many homeowners have decks on the back of their house. Decks are nice. In fact, we build a lot of them for customers. But they do come with their limitations. A sunroom provides everything you want from a deck, while expanding your living space and providing you the perfect R&R destination 365 days a year.
This is the story of how we helped one customer maximize his outdoor enjoyment with not one, but two sunroom additions in his backyard.
The Situation
We were contacted by a potential customer who needed help. He had a beautiful in-ground pool off the back of his house- the perfect area for entertaining guests in the hot summer months. However, there was nothing entertaining about his existing sunporch. It was in an advanced state of disrepair, and had gotten so bad that he had to duck just to get out to his pool area. We consulted with him and provided a bid to build him an exquisite new sunroom, which would double as a new walkout space to his backyard oasis and a basement workout room. Our owner Chuck Easter even met with the customer in his home to talk through his questions and reassure him of the quality of our craftsmanship and our attention to detail.
After receiving our bid, he visited the showroom of another local contractor. We got the call as he was leaving their showroom that he felt our material quality and exceptional service was far superior, so he had made the decision to hire Betterliving® Sunrooms and Awnings of St. Louis, an Easter Quality Company.
The Solution
Customers frequently overestimate the size of the sunroom they need. At Easter, we take the time to get to know what they're looking for and how they plan to use the space. Based on that, we're often able to provide revised dimension suggestions that end up saving them time and money, while still delivering exactly what they're looking for.
This particular customer was also concerned that the new sunroom would not match the outdoor aesthetic of his existing home. After many years in the outdoor renovations business, we understand that concern. When aiming to expand and beautify your living space, the last thing you want to create is an eye sore. That's why we offer sunroom additions in the customer's choice of three different colors: white, sandstone, and earth stone. We've found that between these three different options, we are able to provide a close match to the three basic window trim colors most homeowners have.
Another factor we needed to account for with this project was that it called for a gabled roof with gable end windows to allow for maximum sunlight. But gabled glass cannot be ordered until the structure is completely framed up exact measurements can be assessed. Our team created a temporary solution to fill the window hole while the customer waited for his gable end windows to be delivered. This meant we could finish out the rest of the sunroom and they could begin enjoying it immediately, even before all of the windows were in place.
The Results
By the time the first sunroom was complete, our customer was very impressed. The quality of materials and craftsmanship, the exceptional service, and the end result of their basement sunroom project all combined to lead the customer to a logical question- why have one sunroom when I can enjoy two?
The customer decided to add an elevated sunroom off of his main floor kitchen as well. Today, he has it all – a beautiful workout room with a walkout to his in-ground pool AND an expanded indoor living space with his main level sunroom addition.
Whether it's a fence, deck, sunroom, or other outdoor living renovation, Easter is here to help create the perfect outdoor space for you and your family's lifestyle. If you've ever considered adding a sunroom or if you're just looking for a creative solution to expand your living space, you owe it to yourself to start the conversation with Betterliving® Sunrooms and Awnings of St. Louis, an Easter Quality Company.