Are you looking to blend into your neighborhood or stand out? Either way, the Easter team can help. This is the story of how we helped one client achieve the WOW factor in his yard with a unique and eye-catching fence.
The Situation
Chris and his wife were ready to build a fence at their home, but they wanted something different—something that would make their property stand out with elegance and beauty. When customers approach us with a unique need, our team embraces the opportunity to find and deliver a creative solution. Many people don't realize just how many options are out there. We spent several months with the customers going over the wide variety of different material and color options available until they settled on a product we were all confident would deliver the aesthetic they were looking for.
The Solution
The product our customers chose was not one we were incredibly familiar with. We work with a roster of go-to manufacturers for wood and vinyl fencing in standard colors, but this was a really unique material and color.
The product was a 6' tall privacy fence, rotationally molded from real wood and stone. This allows for a realistic granite-stone appearance and dramatic wood texture. It's constructed with a proprietary blend of polyethylene plastic and reinforced with galvanized steel. This internal reinforcement allows the fence to withstand significant impact or wind load without compromising aesthetics. The fence also blocks 98% direct sound, is virtually maintenance-free, and never has to be painted or stained. UV inhibitors protect against the sun's harsh rays to maintain vibrant colors and the polymer have been tested to withstand extreme weather conditions with little or no fading. Better yet, the graffiti-resistant surface makes removing graffiti simple with the use of a power washer.
We brought in a representative from the manufacturer for a meeting with our customers, as well as the Easter sales pro and project manager. Company president, Chuck Easter, even participated in many of the discussions about the project. Once the customers' questions were answered, we set a date for installation.
The Results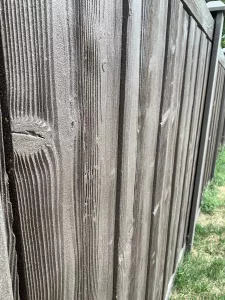 After installation, the customers were very happy with the decision they made and the work the Easter team had done. But through our personal quality assurance check, we noticed a couple of things we weren't quite satisfied with. While the customer didn't point out any flaws, we scheduled a time to come back at no additional charge to make a few alterations and bring the fence up to our expected quality of excellence. It's always worth it for us to go the second mile and ensure we don't settle until we're perfectly satisfied with our work.
In the end, as the pictures show, our customers got exactly what they were looking for: a fence that doubles as an elegant showpiece in their yard, built to last and impress by the Easter Fence team of professionals.