Your Good Neighbor, Since 1957
Easter Fence, Deck & Renovations. Where Customers Become Friends.
Easter-Nelson Fence Co. was founded by Walter C. Easter, Sr. (Charlie) and Junior R. Nelson in 1957.  Working out of a small garage in Maplewood, MO, they began by installing quality residential wood and chain link fences.  Shortly thereafter they innovated the "storefront", a unique method of burglary protection for businesses in Downtown and North St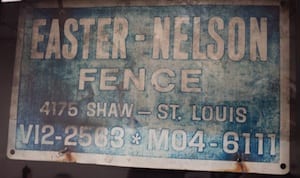 . Louis.  The storefront was a custom-made chain link or wrought iron guard designed to prevent would-be burglars from entering through broken windows or doors.
By 1974 Easter-Nelson Fence Co. had grown to be one of the largest and most respected providers of both residential and commercial fences to the St. Louis and surrounding areas.  It was in 1974 that Easter-Nelson Fence Co. moved to their current four (4) acre facility in South St. Louis County.  In 1983, upon the retirement of Mr. Nelson, the name was changed to Easter Fence, Inc.
In 2013, upon the passing of Charlie, his son Walter C. Easter, Jr. (Chuck) took over at the helm.  Under Chuck's leadership the company expanded into a full-service fence, deck and renovation business and began to operate under the dba Easter Fence, Deck & Renovations (Easter).  Easter is now recognized as the premier deck builder in the St. Louis area.
More recently, Easter has opened a Betterliving Sunroom & Awning dealership.  Betterliving sunrooms are manufactured by Craftbilt in Philadelphia, PA.  The Craftbilt standard of excellence, meticulous attention to detail and uncompromising integrity fit perfectly with the Easter model.
With their rich family history, Easter stands as one of the best-known and trusted construction companies in the Midwest.  Because of Easter's quality, integrity and sincere concern for the customer much of their business comes from previous customers.  With Easter it is not just about the bottom line, but about "doing what's right".  The Easter Family Guarantee is – "Even if it is the first job Dad did in 1957; if we didn't do it right, or didn't do what we said, we'll fix it for free."
Thank you for visiting the Easter website.  The Easter family and staff considers it an honor to serve you.  You're not just a customer, but a friend and neighbor.